In this era, community involvement has become the most essential part for businesses to gain customers. Whether you have an online business or a traditional enterprise, community involvement is the best way to visibility your business, and increase brand and product awareness which creates a strong and reliable relationship with your customers. 
This is where the Salesforce Community Cloud comes into play. Salesforce Community Cloud is an online platform that has become important in every CRM strategy, whether you have a well-settled business or a start-up, it provides a digital experience provided by Salesforce, which helps businesses to reach and manage their relationships with customers and connect with the employees and your partners. 
Table of Content 
Understanding Salesforce Community Cloud
With the help of the Community Cloud, you can develop and maintain a strong and trustworthy relationship with your customers and your partners. Community Cloud provides customer solutions according to your brand needs and requirements as it provides easy integration in your system so the user will have access to data that they need on time. One of the best ways to elevate. Your customer experience is an integration of the Salesforce Community Cloud into your system so you can easily provide a more personalized and self-service experience to your customers. 
In this blog, we will explore the comprehensive guide to using Salesforce Community Cloud. Before that, let's understand the concept of community cloud.  
Understanding Salesforce Community Cloud 
Salesforce Community Cloud is a CRM solution that helps you build a digital cloud-based platform where you can communicate and share information with customers, employees, and partners. Salesforce Community Cloud is simple and easy to set up due to its customized templates and tools. It facilitates chatting, and screen sharing and allows the user to exchange the data and images on time. It provides customized support to CRM and allows the customers to connect with the organizations and increases the employees' productivity. 
1. What Salesforce Community Cloud offers? 
2. Differentiating Between Customer, Partner, and Employee Communities
Customer Community: 
With the help of the customer community, which makes it possible to feed conversation groups, profiles, moderation, analytics, and everything that you need for external collaboration for your business. Including that customer community plus provides the ability to control the sharing provides private group chats, and limited access to the files, posts, images, and records.
Employee Community:
The Salesforce employee community is specifically designed for the team members to cooperate and collaborate to work more efficiently. It empowers them to find a solution and work on the targeted aspects of the business together.
Partner Community:
A partner community aids in corporate selling and assists local brokers, distributors, and resellers with lead and opportunity management, marketing, and events.
3. Community Cloud Use Cases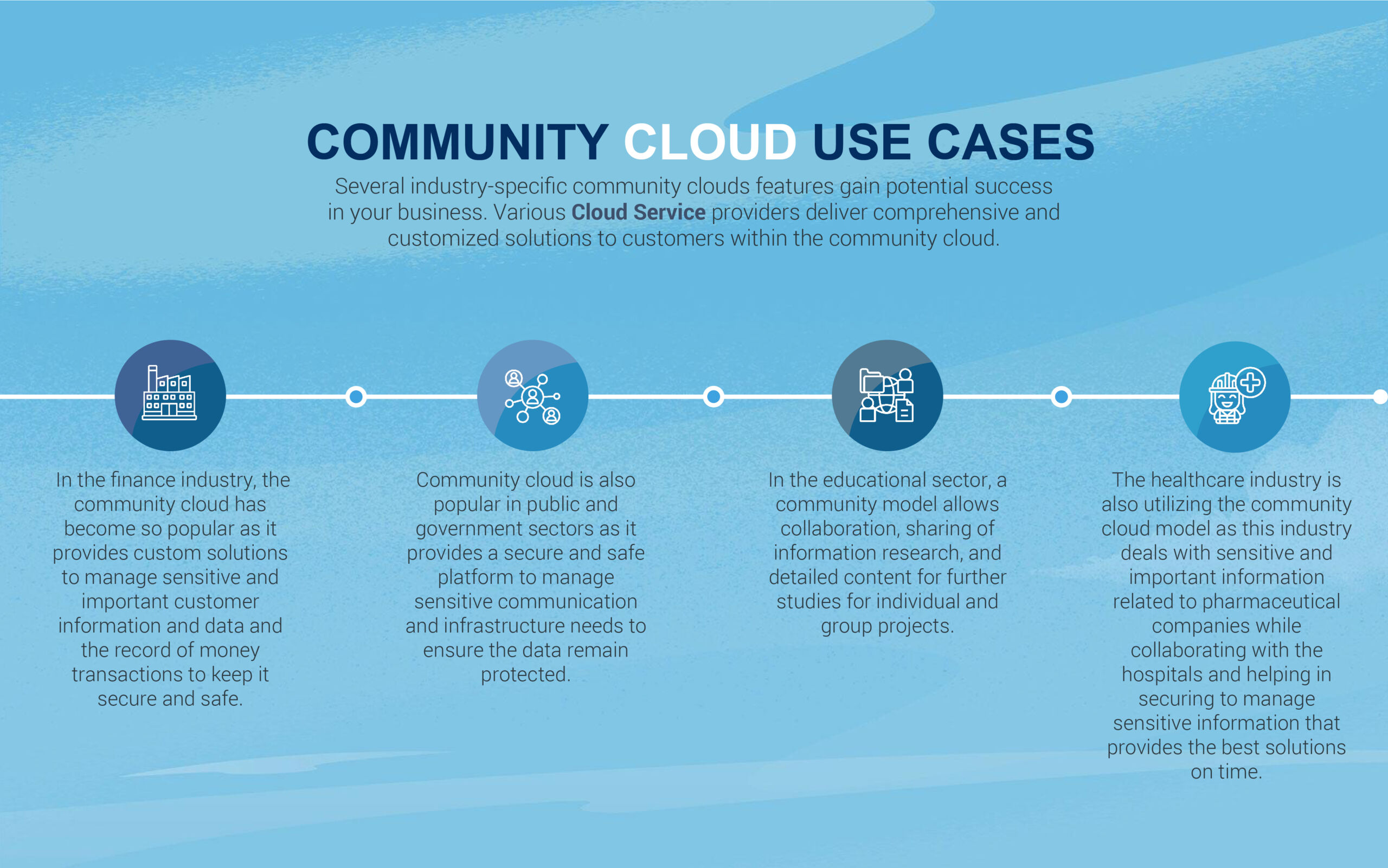 Getting Started with Salesforce Community Cloud
Setting up Community Cloud in Salesforce
With the following easy steps, you can start a community. 
The first step is you need to enable the communities in your Org. For that, go to the set up of community settings and select the option of enabling communities. 

After selecting a checkbox to enable communities, select a domain name for the community. Carefully choose your domain name cause once a domain name is created it will not change

. 

Click on all communities and select a community to create a new one. 

Select a template according to your needs and requirements.

Click on the next page to get started. 

Customizing the community's branding, layout, and user interface
Community Cloud is an online platform that connects customers, employees, and partners, under one roof where you can customize and create multiple communities to meet your business needs and requirements. Salesforce provides comprehensive customized templates to build various communities that address your brand's needs and requirements. Businesses can incorporate various themes, logos, and UI designs to ensure consistent branding. 
Configuring community access and security settings
For safety and security, the service cloud enables community access to ensure the security of sensitive information while enabling limited access for the user defined by the admin.  
4. Building and Designing Your Community
Using Community Builder to create community pages and components
To build and design your community, salesforce, community cloud, provides a special tool called community builder, which can be used to customize the community based on your business needs. You can customize the pages and the components without doing any custom development. It provides pre-built layouts and templates that enable you to quickly change the format and appearance of your community pages. 
 Leveraging Lightning Bolt for pre-built templates and industry-specific solutions
Service Cloud introduced Lightning Bolt which allows the company to create more customized and personalized communities for customers, partners, and employees. It is designed to increase the efficiency of the organization by providing rapid mobile-ready portals which increases the ability to provide a more personalized experience to the customers and support to the employees and the partners. In Lightning Bolt, you can add various customized apps that provide the best solution that fulfills your business needs. With the help of lightning bolt, you can add customized templates, themes, layout pages, lighting components, and content layouts according to your needs.
Incorporating branding elements and personalization options
The main goal of the business is to provide a more personalized customer experience by increasing your brand identity. The salesforce provides various tools and software where you can boost your brand by incorporating customized options and templates. Every business has different needs and requirements and a diverse audience to target to scale their business and increase customer experience. However, salesforce provides comprehensive solutions to address these concerns.
Integrating with other Salesforce products and third-party applications
With the help of Salesforce, you can integrate Salesforce products, and other third-party applications into your system that increase the functionality and efficiency of your operations so that community users can have a seamless experience. AppExchange is built on the Salesforce platform, where you can search and install third-party applications into your system to increase communities' functionality. Apps include Google Cloud, QuickBooks, WhatsApp, LinkedIn, Dropbox, MailChimp, etc.
5. Engaging Community Members
Enabling discussion forums and collaboration features
Salesforce Community Cloud provides 360 views of your organization and various tools that facilitate and support your employees, customers, and partners. Salesforce provides various features that enable employees to interact and collaborate to work on different projects and share important data, documents, and files with safety and security. It increases the efficiency of your teamwork and enables all the employees to communicate openly for business scalability.
Implementing gamification elements to drive engagement
Gamification has been increasing in popularity where customer engagement is the main goal. Through gamification, it increases customer engagement, and sales revenue, and creates loyal customers. Gamification can be implanted for customer and employee engagement. It is an experience that doesn't require a game but it's like applying a game-like feature to a non-game context to target an audience and engage the employees and customers to carry out certain behaviors.
Promoting user-generated content and knowledge sharing
Salesforce knowledge is a powerful tool that enables employees to create and share knowledge articles within your business. It helps promote user-generated content by creating, editing, and publishing articles that provide relevant information about the products, services, and queries of the customers that can be accessed by other employees, partners, and customers. The articles are kept as record types to organize the overall content. 
 Leveraging Salesforce Chatter for real-time communication
Salesforce Chatter is a real-time social collaboration application, which enables employees to communicate and collaborate and share information files and documents to work together. For example, when an article has been published, it allows the other employees to post an update on the question and issues related to that. It also enables the sharing of ideas and encourages discussions to increase the customer experience and scalability of the business under a secure and safe platform.
6. Integrating Community Cloud with Other Salesforce Products
Integrating Community Cloud with Sales Cloud for lead and opportunity management
Leads are potential customers that are interested in your products or services; they may be an individual or a company.  The sales team needs to track the leads and keep them on record to send reminders and monitor the next step which needs to be taken. The integration of the Salesforce Sales Cloud into your community cloud enables the sales team to track the lead easily and make important and effective decisions. It also gives important insights into your operations and customers' behavior and the records of the conversations across multiple channels.
Leveraging Service Cloud for case management and customer support
Case management in the service cloud allows the user to monitor, track and fix the customer's issues and support them by storing and providing accurate data in real-time under a secure platform. It allows the sales team to deliver personalized experiences to every customer anytime anywhere. Whether you are working from home or anywhere in the world, you can provide your customers and clients with real-time services and fulfill their requirements.
Syncing data with Marketing Cloud for personalized communication
Syncing data with the Marketing Cloud allows personalized experience and communication, which has the employees target the audience by sending specific messages and emails. The most effective benefit of the marketing cloud is the automatic synchronization of the data between the Sales Cloud and the Marketing Cloud. While creating a new data source there is no need to import a data source and entitles and the field needs to be selected and configured for the synchronization.
Utilizing Analytics Cloud for community insights and reporting
Analytics Cloud has gained much more popularity globally due to its effective capability of secured reporting and analyzing data for medium and large-size organizations. It also empowers CRM by enabling a self-service analytics application that offers more comprehensive insights into the collected data and the new trends.
It is a mobile-friendly platform where users can easily go through the insights, and the report forwarded by the analytics cloud. One of the best features of Analytics Cloud is Whitespace Analysis because it provides information about which product and service could be sold better and which campaigns or deals grab customers' attention. 
 Community Administration and Maintenance
Managing user profiles, permissions, and access controls
User profile and permission set both are CRED ( create, read, edit delete) permissions on user settings, tab settings, app settings, object fields, Apex class access, visual force page access, record types, login IP ranges, and page layout. Managing the profiles means how users can access the objects and other relevant data, and what they can do within the application you can get only one profile but can have various permission sets. 
Salesforce provides a flexible and secure data, sharing option that enables the admin to control the user access to data. Managing data access increases security by enabling limited access to the user that is only relevant to them. For that use permission sets, permission set groups profile to control the object, and organization settings to specify the users can create and edit.
Monitoring and analyzing community engagement and usage metrics
Customer or community engagement is an exchange between the customer and the organization. This exchange can be a conversation, negotiation, or transaction through multiple communication channels. It is difficult to measure customer engagement without the right tools. With the usage of metrics, we can monitor and analyze day-to-day community engagement. It provides a comprehensive report on each activity. For example, it provides percentages of unread, open, and forwarded emails. 
Handling moderation and content moderation guidelines
Moderation enables you to empower your team members to monitor the contents to ensure it is appropriate and relevant to your business. However, moderation is important and you need moderators to spend time ensuring that the published content is appropriate and helpful for the customers and employees as well. With moderation, you can remove the post comments, files, and messages that are inappropriate and offensive. It also provides an automatic way of removing flagged items or blogs and replacing the keywords. It allows the head of members of the groups and the team leader to moderate within groups and highlight offensive and spam messages, comments, and files.
Implementing ongoing community maintenance and updates
It is important to keep up to date to increase the efficiency of the operations. While making an update, you need to display a branded service not available screen on your site. An admin can have access to the site and make important updates while evaluating the real-time changes. To deactivate to put your site in the maintenance mode go to the settings and click on the health and deactivate your site.
 Best Practices for Successful Community Implementation
Defining clear goals and objectives for the community
Before creating a community, it is important to define clear, goals, and objectives of the community to take important decisions for the community whether it is about direction, settings, plans, policies, and targeted customers. Accurate and relevant goals and objectives can elevate your business and increase the efficiency of your employees. With the help of the set of goals and objectives, you can easily target the right audience and can provide a more personalized customer experience. It helps you stay on track and give you direction to your team and make the result measurable. It helps you achieve your goals and scale your business. 
Designing an intuitive and user-friendly community interface
 Salesforce Lightning Design System is a set of design guidelines, tools, and resources that allows designers to create intuitive and user-friendly. This design system is responsive, and accessible, provides a consistent design system, and offers a supportive community that helps designers to make user-friendly and high-quality applications 
Promoting active community participation and content creation
Active community plays an important role in achieving the goals and increases the visibility and underlying issues and empowers the team members to take mutual decisions. Active community means an increase in the engagement of the customers like comments, follow, share, views, and so much more content creation is done for the community member which is why we should make useful content for them. The community and content enable you to achieve your marketing goals because of increasing brand awareness, real credibility, and trust in customers, hiring new customers, and generating leads.
Continuously gathering feedback and making iterative improvements
An iterative process is a method to solve a problem that involves breaking down a problem into smaller pieces and working on each piece separately. Collect all feedback of the team members, team leader, and even the customers to make improvements until the desired results. The steps for implementation of an iterative process.
Planning 

Designing 

Implementation 

Evaluation
 Conclusion
1. Recap of the benefits and potential of Salesforce Community Cloud
Salesforce community cloud offers a wide range of benefits for your businesses. It helps connect people, increase the collaboration among employees and partners, and drive meaningful interactions with the help of sales for community cloud you can create and maintain loyal customers, and achieve sustainable growth.
The benefits of Salesforce Community Cloud include:
With the help of the salesforce community cloud can increase the engagement between your customers, partners, and employees. 

Salesforce community cloud allows customers to get engaged and find the answers to their questions through self-service capabilities. 

In the salesforce, the community cloud is a comprehensive knowledge-sharing and support facilitation where users can share tips and resources, which enables the customers partner, and employees to resolve issues and keep up to date.

It enables users to create customized, user interface content, and features to achieve specific business needs and requirements and provide more user-friendly and see this experience to the customers. 

With the help of the salesforce community cloud, it enables the admin to control the users, limited access, and are unable to track and remove offensive comments, messages, and files.

Community Cloud provides comprehensive analysis and reporting of customer engagement, user behavior, and active engagement.
Encouragement to explore and implement Community Cloud for enhanced customer and stakeholder engagement
Many factors that affect your business success was the most important factor in stakeholder engagement. It means developing relationships and maintaining collaboration and communication. Another factor is customer engagement which involves the involvement of the customers in your business through messages, comments, likes, shares, and taking advantage of your services and products. And with the implementation of Salesforce Community Cloud, enables businesses to engage the stakeholders and the customers because it provides several societies and benefits that are helpful for them. 
It provides a secure collaborative platform where an organization can enhance meaningful communication, collaboration, and sharing of knowledge by exchanging data files, documents, and images. So if you want to engage your customers and stakeholders for your business success, then implementation of the Salesforce Community Cloud is the best option.
Final thoughts on the future of community-driven experiences in business
In this rapidly evolving business era, community-driven experiences are gaining significant popularity and evolving the brand's engagement with your customers. One of the keys is a clear sense of belonging and creating more deeper relationships with your customers. By constant feedback and making improvements with the help of customers, feedback, and making improvements in their products and services. It enhances customer loyalty and offers a personalized experience to the customers.  In the future companies will create a purpose-driven, nurturing, and creative community that will elevate your business to the next level.
DTC force enables organizations to implement Salesforce Community Cloud in their system to increase their brand visibility, customer engagement, and sales revenue.